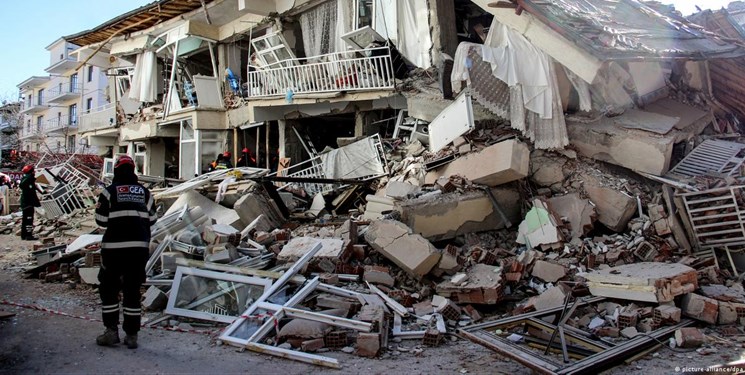 TEHRAN (FNA)- A powerful 7.8-magnitude earthquake has hit Turkey and Syria, killing nearly 1,500 people and trapping many others.
The quake struck at 04:17 am local time (0117 GMT) at a depth of about 17.9 kilometers (11 miles) and was followed by a 6.7-magnitude aftershock 15 minutes later, according to the US Geological Survey, presstv reported.
Turkey's AFAD emergencies service center put the first quake's magnitude at 7.4.
Turkey's President Recep Tayyip Erdogan said at least 912 people were killed over 5,000 others were injured in the quake.
He described it as the country's largest disaster since 1939, adding that 2,818 buildings collapsed as a result.
The Ankara government has requested international aid amid the widespread devastation caused by the quake.
The president of the Turkish Red Crescent also urged the nation to make blood donations.
Kerem Kinik also said on Twitter the organization sending additional shipment of blood to the affected region.
The country's Vice President Fuat Oktay announced the suspension of schools in the 10 affected cities and provinces.
He also announced that flights to and from the airport in Hatay province have been suspended, while airports in Marash and Antep are also closed to civilian flights.
The quake leveled buildings across major cities in Southern Turkey, including Kahramanmaras and Gaziantep, and caught most people while they were still asleep.
"I have never felt anything like it in the 40 years I've lived," Erdem, a resident of the Turkish city of Gaziantep, near the quake's epicenter, told Reuters, adding, "We were shaken at least three times very strongly, like a baby in a crib."
The World Health Organization (WHO), meanwhile, said it was concerned about areas in Turkey from which there had been no news following the overnight tremor.
"National authorities will be focusing on search and rescue at the moment," a WHO spokesperson told Reuters in a statement, adding "Then we will expect an increased need for trauma care to treat the injured and to support the entire health system in affected areas."
The powerful quake left behind many casualties and destroyed buildings in Syria's Aleppo, Hama and nearby provinces.
The Syrian Health Ministry said 339 were killed due the quake in the provinces of Hama, Aleppo, Latakia and Tartus, adding that more than 1,089 people were injured.
Also, other reports coming from militant-held areas in Northwestern Syria said at least 221 people were killed and more than 419 were injured there. Deaths were also reported in Northern Syrian areas held by pro-Turkish militants.
Repots said the Syrian border city of Harem in Idlib province was completely ruined by the quake.
Syria's President Bashar Al-Assad held an emergency cabinet meeting to review the damage and discuss the necessary measures, according to his office.
Raed Ahmed, who heads Syria's National Earthquake Center, told Syrian media that this was "historically, the biggest earthquake recorded in the history of the center".
The tremors were also felt in Lebanon and Cyprus.
People in the Lebanese cities of Beirut and Tripoli ran into the street and took to their cars to get away from their buildings in case they collapsed, Reuters cited witnesses as saying.
Turkey is in one of the world's most active earthquake zones. In 1999, more than 17,000 people were killed in the worst earthquake to hit the country in decades.