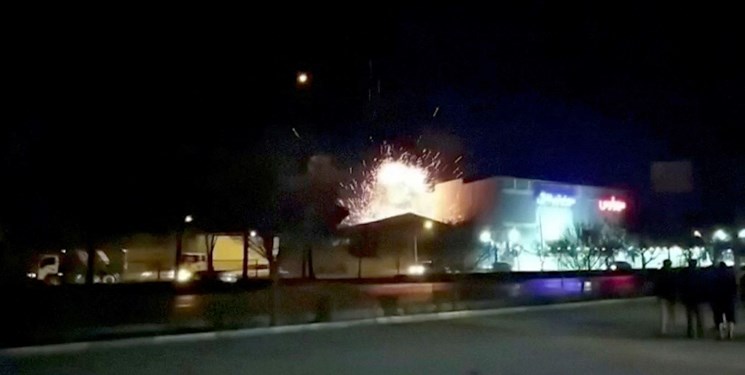 TEHRAN (FNA)- Iran's Supreme National Security Council (SNSC) outlet, Nour News, revealed that terrorist groups based in Iraq's semi-autonomous Kurdistan region were involved in the unsuccessful drone strike on a military workshop in Central Iran on Saturday.
Nour News reported on Wednesday that the terrorists, ordered by a foreign intelligence service, smuggled the constituent parts of a micro aerial vehicle and explosive materials from the Kurdistan region into Iran through far-flung and arduous routes, and handed them over to a liaison in a border city in the Northwestern part of the country.
The drone parts and explosives were then assembled at a modern workshop by a group of specialists and were used in the attack, the report added.
The Iranian Defense Ministry on Sunday announced that the country's air defense units had thwarted a drone raid on a military workshop in Isfahan. Tehran confirmed that the unsuccessful attack did not cause any loss of life and only led to minor damage to the roof of a workshop.
Several news outlets reported that Israel had launched the strike. There was initial speculation in the Arab media that the explosions in Isfahan were the result of a US Air Force operation. But, Pentagon Spokesperson Patrick Ryder has stated that no American forces were involved in the strike, but declined to comment further.
Iranian officials would not assign blame to any party but have stressed that sabotage acts could by no means pressure Tehran to stop its nuclear progress.
Since late September, the Islamic Revolution Guards Corps (IRGC) has launched a series of aerial operations on the headquarters of Iraqi Kurdistan-based terrorist groups. The military operation came after the illegal entry of armed teams linked with the Kurdish terrorist groups into the Iranian border cities in recent months.
The IRGC Ground Force has announced that the operations against terror bases will continue until all anti-Iran separatist and terrorist outfits holed up in the rugged mountainous area lay down their arms and surrender.
Iran said diplomacy failed to put an end to the terror activities in the Kurdistan region, and added that that military operations against terror groups based in the region aim to defend the country's national security.
The Iranian Armed Forces, specially the IRGC, have repeatedly warned that they will never tolerate the presence and activity of terrorist groups along the Northwestern border and will give strong and decisive responses in case of anti-security activities.
The IRGC has on countless occasions attacked and destroyed terrorist hideouts in the Kurdistan region with artillery fire, missiles and drones.
Military officials warn of Tehran's continued attacks against the strongholds of anti-revolutionary groups in the region, specially the Iraqi Kurdistan region. They threatened the Americans that their bases in the region should also be abolished and not be used as an anti-revolutionary center.