Al Mayadeen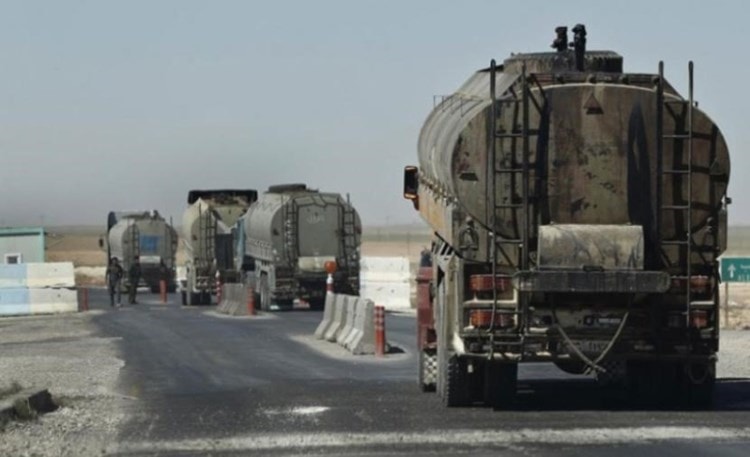 Oil is transported from the Rumailan fields to northern Iraq through the illegal Al-Waleed crossing
The US military occupation continues to export stolen Syrian oil from Al-Hasakah Governorate towards Iraqi territory.
The US military continues to export stolen Syrian oil from Hasaka governorate towards Iraqi territory, in parallel with its continuous shuttle tours of rural villages and towns to recruit Arab tribesmen to work for it, as part of the so-called "Awakening" scheme.
Tribal sources confirmed to "Sputnik" earlier that the new American step did not attract enough attention from the tribesmen in the countryside of Al-Hasakah Governorate, projecting a minimal rejection for this step because the American occupation is behind the tragedies, particularly in the Jazira region and Syria in general.
The Russian "Sputnik" agency obtained photos and videos documenting the moment the US occupation forces, today, Thursday, operated a column of tanks loaded with stolen Syrian oil from Syrian territory to northern Iraq "through the illegal Al-Waleed crossing at the Al-Hasakah countryside."
Moreover, the agency's correspondent in Al-Hasakah quoted local sources confirming that the oil shipment was stolen from one of the wells and supply stations of the Syrian Rumaila Oil Fields in a village on the Syrian-Iraqi border.
Sources revealed that several tankers reached 25, accompanied by several four-wheel-drive vehicles equipped with various machine guns belonging to the SDF militants. She also added that hundreds of US army vehicles and tanks do this daily.
It is worth noting that the Al-Hasakah Oil and Gas Fields Directorate in Rumaila includes one of the largest US military bases in Syria, and it is the first air base established by the US Army in the country after seizing its agricultural airport (Tal Hajar).
Also, Syrian crude oil production had reached approximately 360,000 barrels per day in 2010, of which 100,000 barrels per day came from the Rumaila Oil Fields.
US occupation continues plundering Syrian oil
5 August، 2021
Hasaka, SANA
The US occupation forces on Thursday brought out a convoy loaded with stolen Syrian oil from the Syrian lands to north Iraq via the illegitimate al-Walid border crossing.
Local sources from al-Yaroubiya countryside in Hasaka northeastern countryside told SANA reporter that a convoy consists of 25 tanks, affiliated to the US occupation forces, loaded with stolen oil from the Syrian al-Jazaara headed towards the Iraqi territories via al-Walid border crossing.


The sources added that the convoy was accompanied by a number of four-wheel drive (4WD) equipped with various kinds of machine guns related to the US occupation-backed QSD militia.
The US occupation brought out hundreds of trucks loaded with stolen Syrian oil and wealth over the last few months in coordination with the US occupation-backed QSD militia to the Iraqi lands.
Hala Zain