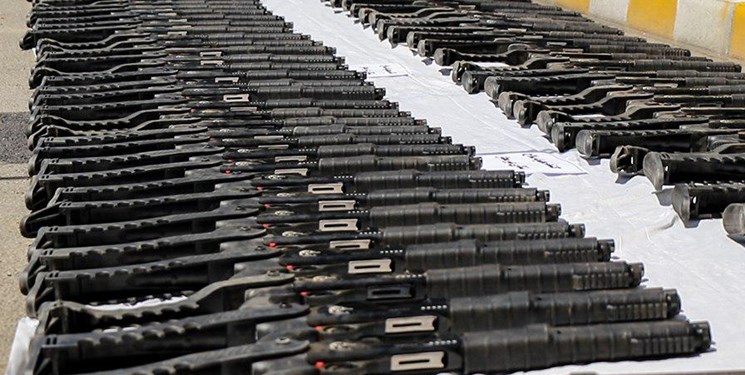 TEHRAN (FNA)- Reports show terrorists and separatist group have deployed in Khuzestan province to carry out sabotage and false-flag operations to marginalize the main demand of people protesting over water shortage and drought and escalate peaceful rallies into armed conflicts.
Escalating peaceful popular protests into an armed conflict by the terrorist and anti-revolutionary groups, specially the Mojahedin-e Khalq Organization (MKO also known as MEK, NCRI or PMOI) terrorist group, is nothing new, and rioters' use of firearms during the protest rallies has been witnessed over the last couple of years; there have been numerous images and footages of rioters' use of firearms.
In addition to Khuzestan province, the use of Winchester shotguns by the rioters left one dead and four wounded in the clashes a few nights ago in Aligoudarz, the capital city of Lorestan province. Now the question is how and by what means is this volume of weapons made available to the rioters?
The Iranian security and police forces have in recent years discovered a large volume of weapons smuggled to the country, specially in the past 4 years. The MKO teams used weapons during the petrol price hike protest rallies and unrests two years ago to launch false-flag operations against the Islamic Republic by killing the protestors.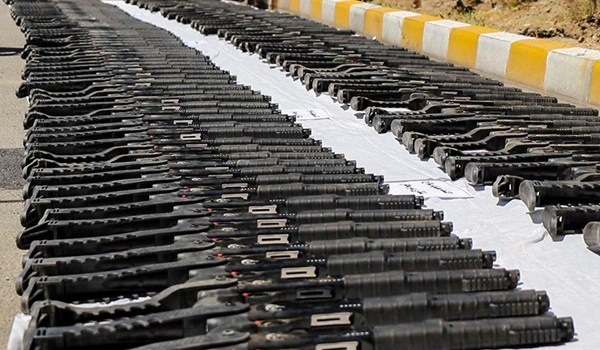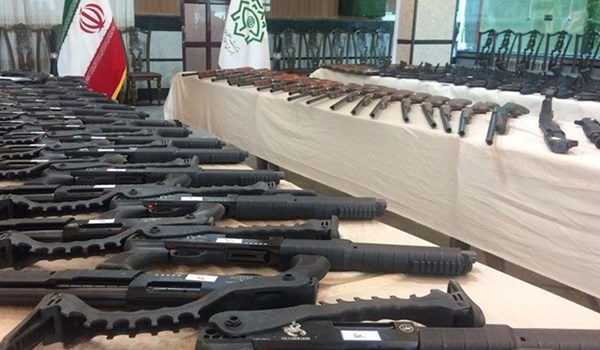 Turkey, a neighbor of Iran, has been investing heavily in the production of light and hunting weapons for many years, and several companies in the country, some of which well-known in the world, produce and supply various types of shotguns to various markets. One of the markets in which Turkish hunting weapons are sold, not legally, but illegally, is Iran, and the Turkey-made weapons have been found at the bordering areas in the past, but the high volume of discovery of these weapons in the center and other parts of the country indicates their abundance across Iran.
A review of images of illegal weapons discovered in recent years shows that the highest frequency of discoveries is related to the Winchester shotguns, which are mainly Stranger BSM models produced by an unknown company called BALIKLI in Turkey, which are smuggled into Iran. A review of the company's website shows that it has produced various models of this type of weapon.
Features of this weapon, including lightness, small size that can be hidden, retractable butt, multiple rounds and the ability to fire 12-gauge bullets that are easily accessible and can be produced even with simple and basic devices by individuals are among the reasons that they have been used by rioters and elements of terrorist groups in the riots of recent years.
There are different types of bullets that can be fired from this weapon, because it is actually a bullet with a plastic cartgidge that can be filled with different types of shots; in the picture below, you can see different types of 12-gauge bullets with different shot sizes, which are arranged from single bullets (slugs) to small shots.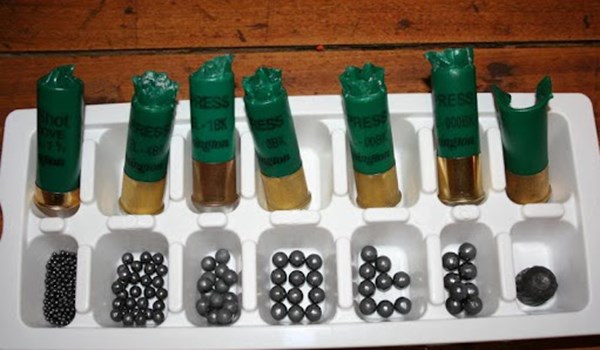 However, as mentioned above, these weapons are all smuggled into the country and naturally with no licensing or permit issued for them, which is the reason why it is the main weapon used by the saboteurs and terrorist elements in the riots and unrest; but despite all the extensive efforts of security, law enforcement and military bodies to discover and seize illegal weapons, we still see the use of this type of weapon in riots like the riots a few nights ago in Aligoudarz city in which several people were injured with the same type of shotguns.
In recent years, traffickers have even taken to online sales and purchase of weapons and ammo, examples of which can be seen in the image below.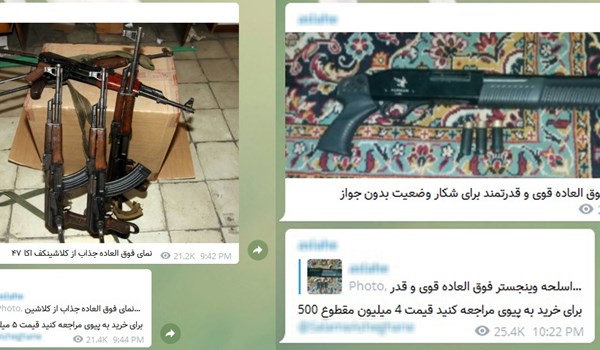 The recent unrests in Khuzestan in which the terrorist and separatist groups sought to advance their sinister goals by turning the protest rallies into armed conflicts and divert the protests from the main goal and demand of people once again showed that the use of weapons is part of the agenda of the terrorist groups.
Countering the flow of weapons into the country is one of the necessities that have been well defined by the security incidents of the recent years, and it seems that it needs more attention from the authorities as a security challenge.
People in Khuzestan province rallied this week to protest shortages of drinking and agricultural water, and the drying up of wetlands and rivers.
It is less than a month that the western regions of Khuzestan have been in a water crisis, and due to the lack of water in the Hur al-Azim wetland, some local people have lost their livestock. A number of young people have been holding mostly peaceful protest rallies in the past few days in certain regions of Khuzestan province. Yet, Separatist and anti-revolutionary groups have been attempting to provoke rallies into rioting by false-flag operations and through a large disinformation campaign.
Rioters and armed militants disguised among protestors who have been holding rallies to demand solution of their problems related to water shortage and drought in Iran's Southwestern province of Khuzestan killed a young protestor and a policeman last Tuesday.
Human Rights Lawyer and Director of Partners for Rights Elahé Sharifpour-Hicks, a member of the US-backed opposition of the Islamic Republic based in the western countries, wrote on her twitter page that armed members of the Mojahedin-e Khalq Organization (MKO also known as MEK, NCRI or PMOI) terrorist group trained by Israel are actively present among protesting people in Khuzestan to provoke tensions.
Unfortunately many of armed MKO members are among protestors in Kuzestan. The group has been supported, funded and trained by Israel.

— Elahé Sharifpour-Hicks (@HicksElahe) July 21, 2021
Last Friday, the Al-Ahwaziyah terrorist group released photos and videos claiming that it planned to riot in some parts of Khuzestan; the images showed a number of individuals who raised the flag of al-Ahwaziyah terrorist group among the protesting people rallying in Shadegan and Susangerd.
The group has a record of numerous terrorist operations in Iran in the past two decades, killing citizens, including children and women.
Edy Cohen, the Israeli media analyst close to Netanyahu and Mossad, disclosed Israel's close ties and support for the separatist groups in Southwestern Iran, specially al-Ahwaziyah terrorist group.
Cohen released an image of his meeting with a ringleader of al-Ahwaziyah terrorist group on his twitter page, stressing that Israel supports the separatist groups in Iran's Southwestern province of Khuzestan and is standing beside them against the Islamic Republic.
He then addressed the Persian Gulf Arab states, saying, "Arabs! Watch! We, the Jews, supported them. You, the Arabs, did not support the Ahwazis. The Jews are nobler than you. Shame on you the cowards and servants of Iran. History will not show mercy to you, the Arabs."
شاهدوا یا عرب. انتم یا عرب لم تدعموا الاحوازیین. نحن الیهود دعمناهم. عیب علیکم یا جبناء یا عبید إیران.
الیهود اشرف منکم.
التاریخ لن یرحمکم یا عرب https://t.co/EXumzZv442

— إیدی کوهین אדי כהן 🇮🇱 (@EdyCohen) July 24, 2021
Al-Ahwaziyah, an Arab separatist group, has long has ties with Saudi Arabia and has run joint operations by the ISIL in the last several years as well.
One factor behind Iran's water shortages is a sharp drop in rainfall, which has been more than 40% below last year's levels in recent months, combined with high Summer temperatures. The drought has left Iran's dams with less water to generate electricity, contributing to blackouts in recent weeks.
Iran's Judiciary Chief Gholam Hossein Mohseni Eje'i issued an order to immediately follow up on resolving the water problem in Khuzestan, and a senior judicial and executive delegation was sent to the Southwestern province to investigate the issue. President Hassan Rouhani also sent the Head of the Crisis Management Organization to Khuzestan at the head of a high-level delegation to settle the problems in the province as soon as possible.
Meantime, Supreme Leader of the Islamic Revolution Ayatollah Seyed Ali Khamenei underlined the necessity for resolving water shortage problems in Khuzestan as fast as possible.