TRANSLATED BY SYRIA 360° | INTERNATIONALIST NEWS AGENCY
Aleppo-Sana Arabic
Unlike the previous years, the Newroz Day is bleak and the joy that has been characteristic of  the people of Afrin, is missing, since they were forced to flee their homes and villages as the Turkish forces swept through their areas, destroyed their homes and robbed them of their possessions.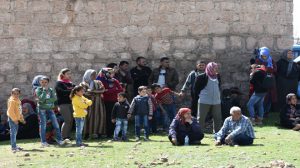 Despite the bitterness of displacement, some residents tried to remember the holiday. Hundreds of  gathered today in the courtyard of the town of Favin in the north-eastern Aleppo countryside.
Bitterly, tears flowing from her eyes, Fatima Mohammed Oso of Afrin told the Sana correspondent that it is the first time that is she has not felt joy at this feast,  where the suffering of displacement overcomes joy. She struggles to understand why  the Turkish aggression happened under the eyes of the world without any nation stopping it.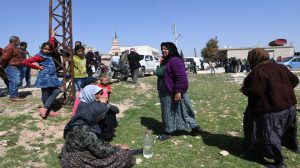 Fatima said that 15 days ago she was forced to leave her home with her family after the bombing intensified. They fled with what they wear, hoping that this suffering will end soon. .
Hassan Sheikh Hassan, from the village of Mariamin, was forced to flee the Turkish aggression, adding that the feast of Newoz is an occasion on the hearts of many because it means light and hope and new birth, but their conditions today are difficult with the continued Turkish aggression and the martyrdom and loss of many loved ones.  Despite this suffering, they were keen to rally in this arena to emphasize that the aggression must not destroy hope for the day they can return to their homes.
71-year-old Abdel Rahman Mohammed is still fond of the annual celebration of this holiday and recounts the preparations he made to offer outstanding cuisine, wear new clothes and dance to the music, to try to bring  joy into the eyes of everyone, especially the children, even though  Afrin and her family are in distress today. He called on the countries of the world, humanitarian organizations, to act effectively and expeditiously to stop this flagrant aggression on Afrin.
The views of the rest of the people who gathered in the courtyard of the town of Vavin did not differ. All of them hid their tears and sorrows. In each of them there were a thousand stories, a and a million questions without answers. All this, while sadly buried in the heart because of the suffering and the harshness of displacement, did not stifle the hopes of the people.