'Justice' March Reaches Istanbul, Followed by Massive Rally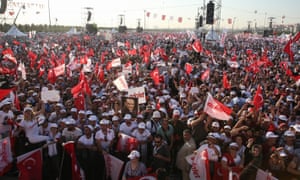 Emergency rule and purges by Erdogan's government constitute a "second coup," said Kemal Kilicdaroglu, who began the march from Ankara to Istanbul.
Hundreds of thousands rallied in Istanbul, Turkey after what was called a 280-mile Justice March against Turkish President Recep Tayyip Erdogan and his government. The demonstration was in response to the widespread imprisonments and dismissals authorized by the Turkish government after last year's failed coup attempt.
Erdogan has accused the Republican People's Party, the main organizers of the protest, of supporting terrorist activity.
He claimed that not only did they intend to be part of the government opposition but were, in fact, "acting with terrorist organizations and the forces inciting them against our country."
Emergency rule and the purges initiated by Erdogan's government constitute a "second coup," said Kemal Kilicdaroglu, head of the CHP who began the march from Ankara to Istanbul on June 15, having walked roughly 12.4 miles every day.
The march demanded the freedom of the party's lawmaker Enis Berberoglu, who was recently arrested.
Upon reaching Istanbul, Kilicdaroglu addressed the throngs of people who awaited his arrival according to Reuters. He said that the people of Turkey were living under a dictatorship, however, "we will be breaking down the walls of fear."
Though his protest march only attracted a modicum of support in its early days, Kilicdaroglu, a 68-year old politician, garnered allies nationwide as his advance from Ankara to Istanbul progressed. Eventually, it would become the largest public affront faced by Erdogan's government.
Last year's attempted military takeover resulted in more than 250 deaths. Since then over 50,000 people have been arbitrarily arrested and 140,000 fired or suspended from their jobs. Kilicdaroglu decided to march from Ankara to Istanbul when a parliamentary colleague was jailed for 25 years on charges of spying.
teleSUR / jc-RT